Ascend Sirimon and Descend Sirimon
3 nights / 4 days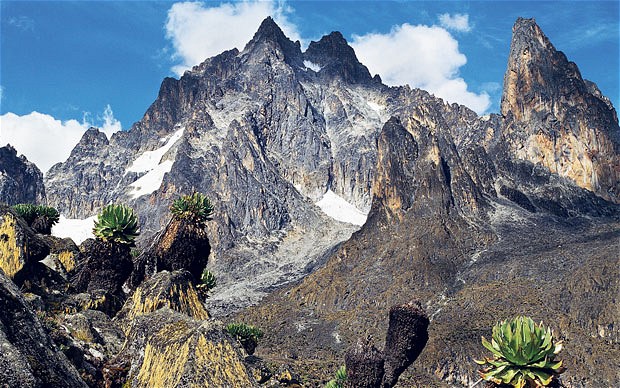 DAY 1 (OLD MOSES CAMP)
0800 hrs Depart Nairobi to mt Kenya national park gate, taking about 3 hrs drive.

Lunch served on arrival. Trekking begins after lunch to old Moses taking

APPROX 3, 1/2HRS hours depending on your pace.
Dinner and rest old Moses (3300m).
DAY 2 (SHIPTONS CAMP)
Morning breakfast, at 7am then hike up to mackiinders Valley through Moorland.
Lunch will be served along the trek. Approx trekking time: 7 hours.
Depending on your pace.
DAY 3 (shiptons camp-oldmoses camp)
Early morning wakeup call at 2 30am we attempt point Lenana (4985M) at

dawn to catch early sunrise. The trek is approx. 3 hours. We descend down

to shiptons camp for breakfast, aprox time 2hrs, then further down to road head
Camp lunch is severed in between the trek approx time 41/2 hrs. Then down
further to bandas camp approx time 2 1/2hrs. Dinner and rest at oldmoses camp
DAY 4 NAIROBI
Breakfast at 7am, WE TREK down through the forest to sirimon gate
Prices on Request include
1 person USD$850

2 persons each pays USD$ 750

3persons each pays USD$650
Price includes:
• Guide and guide fees
• Porters to carry food and luggage
• Cooks
• Park fees & camping fees for clients, guide, porters and cooks
• Accommodation on bandas
• All meals 4meals per day breakfast, lunch, 1st evening tea, appetizers.

Full supper and 2nd evening tea
-Transport to fro from Nairobi and to base camp using public shuttle.

Private transport avaibale on request

NOT INCLUDED
Personal hiking gear
Tips/gratitude
Drinks of personal leisure
B) MENU SAMPLE
BREAKFAST
Beverages
Consists of the following which are interchanged
Tea, coffee, served with milk, chocolate, porridge.
Solid food
Bread served with omelets, pancakes, sausages, conflakes/wheatabix, and doughnuts
Fruits,
Passion fruit, oranges, pineapples, bananas,
Lunch
Nodules served with beans accompanied by whole meal bread and passion juice

with salad or French sandwitch served with overcardo and onion salad with
hot coffee or mango juice
1st evening tea
Tea, coffee, chocolate served with variety of snacks e.g. high energy biscuits,
popcorns, crips, doughnuts
Appetizer
Oxtl soup served with whole bread. Or tomato soup
Supper
Spaghetti with backed fish accompanied with meat stew, 2nd night chicken served
with rice and

African chapatti--- smashed potatoes served with French peas and with a variety of greens.
2nd late tea
Coffee, tea and chocolate served with milk.
CLIMBING GEAR
NB: gear can be hired IF REQUIRED
Here is a brief list of things you will need for the trek
-Backpack bag for personal gear
-Day pack
-A sleeping bag
-A good pair of comfortable walking boots which are
reasonably stiff or
-Other shoes which have plenty of ankle support. [Sneakers at the campsite]
-A waterproof jacket (waterproof trousers are advisable)
-warm woolen socks 3 pairs
-A spare set of warm clothes e.g. warm jumper, warm jacket- waterproof Shirts nylon material if available, fleece jackets
-Water bottle
-Torch/head lamp
-Warm headgear [malvin]
-Gloves water proof
-Items necessary to protect you from the sun. [Sun glasses], hat or cap
-Hiking poles
-lip balm
-snacks to keep moving
-neck scarf
END OF SERVICES