Elephant Orphanage Tour in Nairobi - Advance Booking within 3 months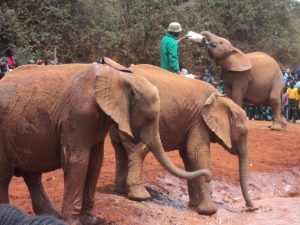 You will be picked up from your hotel at 9.30hrs the center which can take around 30 to 40 minutes. Once you arrive you will take a walk through the nursery and you will explore the paths and trails the infants take. See a mud bath in action and walk around the stables that the orphaned elephants sleep in at night for warmth and protection, accompanied by their elephant keepers.The feeding time is from 1100hrs-1200hrs.
Please Note we have to request for admission before we confirm the booking to you.
Later, you will be transferred back to your hotel, residence or airport.
Time back to Hotel will depend on how long you will take.
Please carry comfortable walking shoes, hat or cap, sunscreen, sunglasses
Note better:
Since the process of booking the Elephant Orphanage Tour has changed. Bookings are made withing 3 months that is before 7 days and the 90th day of travel. Bookings done after 90 days will have to wait for full confirmation. 
Friday, Saturday and Sunday has been placed on NO BOOKING status - IF you want to visit any of these days, please send (click email)  on email to info@cruzeiro-safaris.com
Once your purchase from Cruzeiro Safaris, we shall then request for the tickets. Once Confirmed the tickets are NON-Refundable and will be the payments .