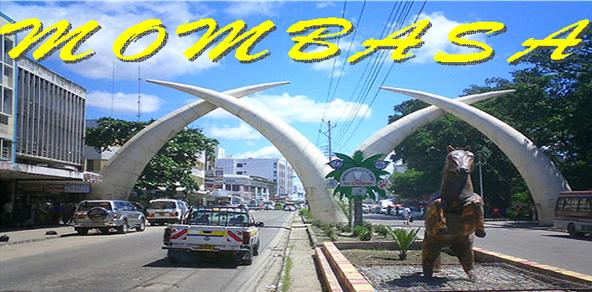 The city is located on Mombasa Island, which is separated from the mainland by two creeks: Tudor Creek and Kilindini Harbour. The island is connected to the mainland to the north by the Nyali Bridge, to the south by the Likoni Ferry and to the west by the Makupa Causeway, alongside which runs the Kenya-Uganda Railway. The port serves both Kenya and countries of the interior,linking them to the Ocean. The city is served by Moi International Airport located in the northwest mainland suburb of Chaani, northwest of Changamwe area.
The city is mainly occupied by the Muslim Mijikenda/Swahili people. Over the centuries, there have been many immigrants and traders who settled in Mombasa, particularly from Iran, the Middle East, Somalia and the Indian sub-continent, who came mainly as traders and skilled craftsmen.
Traditional dress for the Swahili women is a brightly coloured, printed cotton sheet called a kanga, which may have inspirational slogans printed on it. Muslim women wear a covering known as a bui bui, that is traditionally black, along with a head covering called a hijaab, and sometimes wear a veil called a nikab. Men wear a type of sarong, which is coloured in bright bands, called a kikoi.
TOURIST ATTRACTIONS
- THE MOMBASA CITY TOUR
- THE SHIMBA HILLS
- DOLPHIN TRACKING TOURS
- TAMARIND EVENING DHOW DINNER
- HALLER PARK
- TSAVO EAST & WEST NATIONAL PARKS
- AMBOSELI NATIONAL PARK
- ARABUKO SOKOKE NATURE FOREST – WATAMU
- GEDE RUINS – MALINDI
- MALINDI SAFARI
In Addition you may request for a safari to the rest of the parks by air or by road.
Facts about Mombasa:
2nd largest city in Kenya Located in the Coastal Province now Mombasa County
In an area of
Area - City 295 km2 (113.9 sq mi)
- Land 230 km2 (88.8 sq mi)
- Water 65 km2 (25.1 sq mi)
Elevation 50 m (164 ft)
Population (2009)[citation needed]- City 939,370 -
Density 3,184/km2 (8,246.5/sq mi) - Urban 939,370
Time zone EAT (UTC+3)